Interested to find out more about amateur radio? but don't want to spend on a big fancy radio?
You can make your first steps without spending anything! ...and straight away.
Most of the time playing radio is spent listening, so let's not worry about the transmitting bit yet. You can listen and tune across most of the amateur bands, in fact most of the short wave and VHF/UHF bands too, straight from the PC, tablet or phone you are using right now.
SDR (Software Defined Radio) has been with us for some time now, this is where the hardware (physical radio bits and pieces) are minimised and most of the processing, number crunching and user interface (knobs & dials) are replaced by your computer. This makes it versatile, you can change the radio layout on your screen to suit yourself and receive updates for your setup.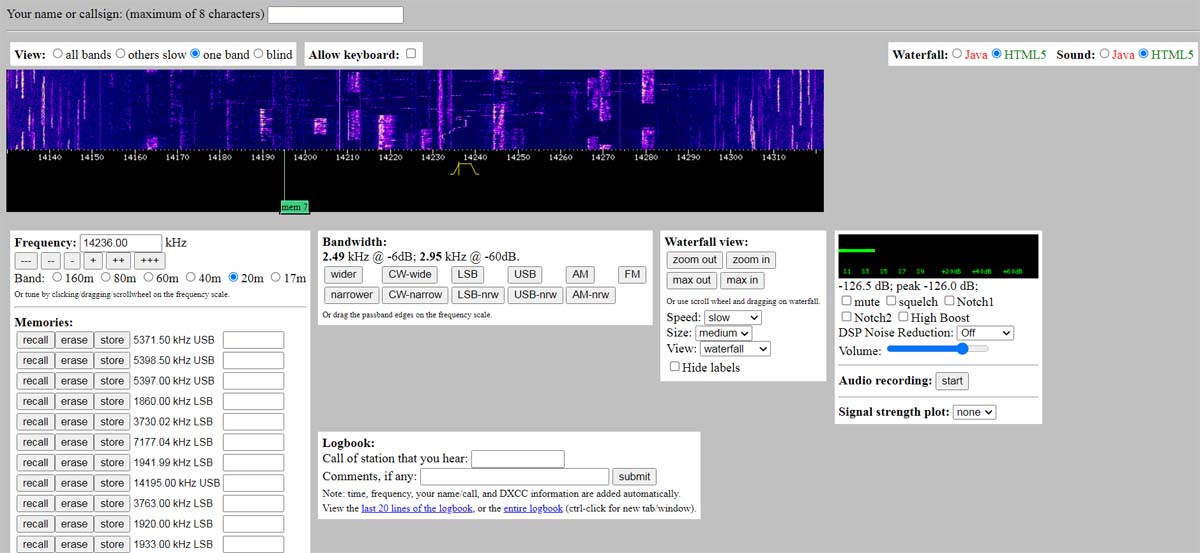 Now for the interesting bit... Radio clubs, societies and individual around the world have set up remote radio stations that allow access from the internet, many free to use for receiving.
These can be displayed in your browser and use of the keyboard & mouse to move frequency, change bands, apply filters, etc. Many have alternate mobile phone friendly versions too. They will have a similar layout to that shown here, with buttons for all the different operating modes (AM, FM, SSB, etc) zoom in or out for ease of tuning and the ability to change frequency, in this case by sliding with the mouse (or finger on tablets/phones). The signals are displayed in 'waterfall' fashion, this is more useful than just numeric frequency display and signal meter as with traditional analogue radios, as you can see the incoming signals across a big piece of the band rather than one single frequency. Also see the signal over time, enabling you to easily glance up and down the band for activity.
The 'fatter' signals are speech, the thinner signals either digital/teletype signals or morse code (CW) which is still very popular among radio amateurs.
WebSDR
is a website that lists many of the more useful online radios that you can use. Please note occasionally you may have to adjust your browser settings in order for things to run properly, usually the audio.
Useful if you are in the UK is the SDR radio setup at Hack Green, Nantwich, Cheshire.
Their short wave (HF) receiver can be found
here
Their VHF/UHF receiver for more local traffic
here
where you can listen to local chat on the popular 2m (144-146Mhz) band and 70cm (430-434Mhz) band. The calling frequency on 2m being 145.500, above that you will also hear repeater stations where the signal is relayed from hilltop stations to improve range, mostly for mobile stations.
Morse code (CW) on the SDR's.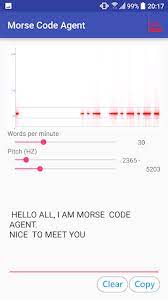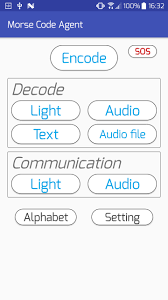 Towards the lower end of, mostly the HF bands, you will see the thinner intermittent trails of morse signals. These need not be a mystery to you, you can use a phone app like Morse Code Agent, hold your phone near the PC or radio speaker and if the signal is strong enough and clear enough it will decode for you. Some patience will be required, the app takes a while to lock on and the morse needs to be consistent.
So now your well on the way to experiencing amateur radio without spending anything.
There are phone apps for exploring some of the digital modes you may hear, such as DroidRTTY which will decode the RTTY (Radio teletype) signals by listening to the tones from the PC/Radio speaker. RTTY originated in the days of electromechanical typing machines that send out two different tones using the 'Baudot' code, when PCs came about these replaced the big mechanical machines and it is still in popular use on the short wave (HF) bands. There is also DroidPSK that does similar but with PSK (Phase shift keying) a more modern teletype signal that takes up less band space. These apps are certainly available for android phones, not sure if there is an iphone version available.